They did it! They gradumicated from Temple University... and before entering that Real World, they decided to celebrate at the South Philly Tap Room. I can't plug this place enough. ConGRADuations to Rachel and Shelly. A bajillion more pics are found after the JUMP.
Mr. Tumnus is attacking my girlfriend, Joe has shaded out on Maura too many times... and Superman + Lois Lane
Dan, I can see your brain from here.
Three's company, TOO!
Neo and Colin-o. Mauro... and Shad-oh. Cheers.
Take 1... and Take 2. Dan and Tim sorta look like a He-Man character I used to know.
He wore a Phillies hat on the day they lost 117-5. That's not a typo. I feel for him. Scottish reunion in the middle... and the gift that keeps on giving.
Yardley reunion. Continental Midtown reunion.
Dan makes the disgusting face, I try to make the disgusting face... and my beer has legs. What do you see?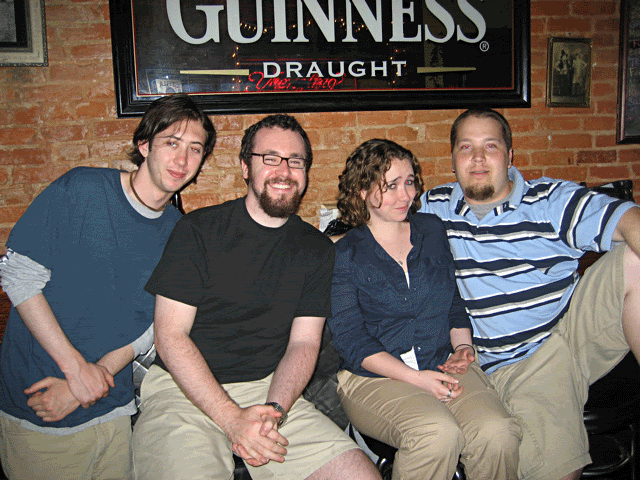 And then La Cantina...
Awwww... followed by the birthday girls, and H-town's finest. ME!
Flaaaaaahn Maaaaaaahn... Sterling (like silver) and "There's something in your beard."
Strangers in the Night, Guy from Amada 1, Guy from Amada 2.